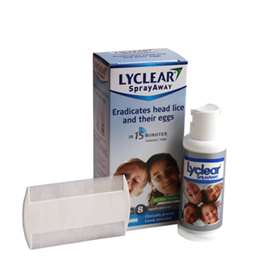 Click on image to enlarge
| | |
| --- | --- |
| Price: £9.79 (incl VAT) | Sorry, this product is no longer available. |
Please note that this product has been discontinued by the manufacturer.

Lyclear SprayAway is a complete treatment clinically tested for the eradication of head lice. It is a natural treatment, free from insecticides. Non-insecticides are treatments which kill the head lice by coating the holes (spiracles) that they breathe through, thereby suffocating them. However, as they don't kill their eggs, a second application is usually required once the remaining head lice have hatched. Because Lyclear SprayAway does not contain insecticides it means the head lice cannot build up resistance and it can be used again and again.
60ml.
Insecticide-free.
Clinically proven to work in 15 minutes.
Easy to apply, not messy.
Pleasant smelling.
Up to 8 applications per bottle.
Includes a fine toothed plastic comb.
Suitable for adults and children over 2 years of age.
Lyclear SprayAway is part of the Lyclear range of expert solutions, and is clinically proven to clear head lice and their eggs. It sprays on easily, with no mess or fuss, and unlike some other non-insecticide sprays, there's no leaving it on overnight. Two 15 minute treatments per person is all that is required. Lyclear SprayAway does not kill the lice eggs (nits) and a second application is usually required once the remaining lice have hatched.This pack contains a spray-on lotion and a rigid fine toothed comb specially designed to remove head lice and their eggs. The unique leak-proof spray makes the application of the lotion very easy and non-messy, which is ideal for small children who find it difficult to sit still whilst being treated. The spray mechanism transforms the oil into fine droplets making it economical to use and easy to wash out.If the scalp has been irritated by a reaction to the saliva of the lice, the ylang-ylang oil contained in Lyclear SprayAway will help to soothe the scalp.
How to use Lyclear SprayAway:
1. Make sure there definitely is a head lice infestation.2. Spray Lyclear SprayAway onto dry hair until it is slightly damp and massage the lotion into the hair and scalp.3. Leave it on for at least 15 minutes then wash the hair as normal.4. Before drying the hair, divide it into small sections.5. Using the comb provided, comb each section of the hair from root to tip.6. After combing each length of hair, wipe the debris from the comb with a tissue.7. Repeat steps 2-8 seven days later to make sure you remove any head lice eggs that may have hatched in the past week.
Precautions, Cautions and Warnings:
Always read the label and follow the instructions.
Do not use if allergic to any of the listed ingredients.
For external use only.
Do not spray in the eyes, ears, nose or mouth.
Do not apply to broken or sensitive skin.
Suitable for adults and children over 2 years of age.
Ingredients:
Caprylic/Capric Triglyceride (Fractionated Coconut Oil), Isopropyl Alcohol, Illicium Verum (Anise Oil), Cananga Odorata (Ylang-Ylang) Flower Oil.Head lice treatments will not prevent an individual from catching head lice again. Therefore, if a friend or family member has lice without knowing, it is likely they will be passed around again and again. That is why contact tracing is very important.