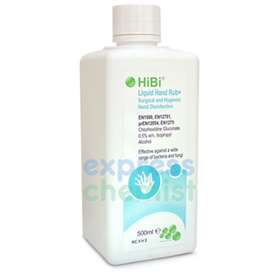 Click on image to enlarge



Price: £7.99 (incl VAT)
(Buy any 3 or more Hibi products and save 3%)
Price: £7.99 (incl VAT)
(Buy any 3 or more Hibi products and save 3%)
Hibi Liquid Hand Rub+ for Surgical and Hygienic Hand Disinfection
Contains the active ingredient Chlorhexidine Gluconate 0.5% w/v and Isopropyl Alcohol.
For general hand disinfection.
Protects against a wide range of bacteria and fungi.
Do not use on broken skin, deep wounds/cavities or mucous membranes (including eyes, mouth, genitalia).
Do you need a Pump Dispenser?
Directions:
For Surgical hand disinfection - Apply 3ml to clean dry hands. Rub over hands and forearms until product is absorbed. Repeat application, keeping hands wet with product for 3 minutes. Rub dry, do not rinse.
For Hygienic Hand disinfection - Apply as directed above, rubbing in product for 30 seconds. Only one application is needed.
For General Skin Disinfection - Apply product to unbroken skin when needed. Avoid any pooling of product.

Ingredients: Chlorhexidine Gluconate 0.5% w/v • Isopropyl Alcohol • Isopropyl Isostearate • Cyclomethicone • Purified Water.


Product code: HIB73N
Price: £7.99 (incl VAT)
(Buy any 3 or more Hibi products and save 3%)