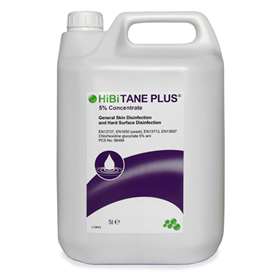 Click on image to enlarge



Price: £28.95 (incl VAT)
(Buy any 3 or more Hibi products and save 3%)
Price: £28.95 (incl VAT)
(Buy any 3 or more Hibi products and save 3%)
Hibitane Plus- General Skin Disinfection and Hard Surface Disinfection- Chlorhexidine Gluconate 5% w/v.
Uses:
General Skin Disinfection.
General anti-septic hand washing.
Hard Surface Disinfection.
Hand washing procedures in food processing.

Hibitane is a antibacterial skin cleanser that is effective against bacteria, yeasts, fungi and lipophilic viruses.
Directions for Use:
Dilute according to use. Full instructions are included.

Warnings:
DO NOT USE IF YOU ARE ALLERGIC TO CHLOREXIDINE GLUCONATE. AVOID CONTACT WITH EYES AND EARS.

Active Ingredients:
Chlorhexidine Gluconate 5%.






Product code: HIB75F
Price: £28.95 (incl VAT)
(Buy any 3 or more Hibi products and save 3%)