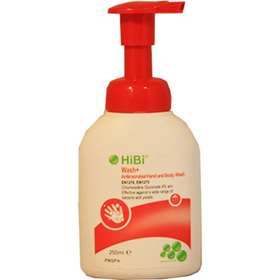 Click on image to enlarge
| | |
| --- | --- |
| Price: £4.69 (incl VAT) | Sorry, this product is no longer available. |
HiBi Wash+
Antimicrobial Hand and Body Wash
HiBi wash contains the active ingredient Chlorhexidine Gluconate 4% w/v.
Suitable for hands and body.
Directions for use: Wet the skin and rub in a generous amount, lather and rinse.
- Not to be used to treat infection.
- Do not use on mucous membranes (including genitals) - It WILL irritate.
- Do not use in open wounds.
- Do not swallow.
- If product enters eyes, rinse out with warm water.

Ingredients: Chlorhexidine Gluconate 4% w/v • Isopropyl Alcohol • Polyoxyethylene-polyoxypropylene block copolymer • Lauryl dimethyl amine oxide • Glycerol • Macragol 7 glycerol cocoate • D-gluconolactone • Herbacol • Ponceau 4R • Purified Water.