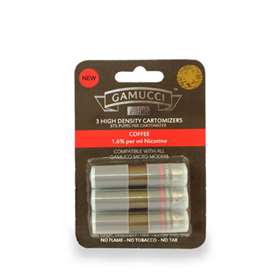 Click on image to enlarge
| | |
| --- | --- |
| Price: £3.85 (incl VAT) | Sorry, this product is no longer available. |
Gamucci Coffee High Density 1.6% per ml Cartomizers 3 are refill cartridges that come in different strengths from light to regular. Gumucci Micro Electronic Cigarette cartomizers come in a pack of 3 cartridges and have an original tobacco flavour, they are easy to use and have a variety of flavours. This is the Coffee flavour.
3 Cartridges.
Equal to approximately 375 puffs.
Coffee taste.
Each cartridge is equivalent to 10-15 cigarettes.
1.6% per ml Nicotine.
Directions of use:
Remove a cartomizer from the blister pack.
Pull off the protective rubber sheath off both ends and simply screw on to a charged Gumucci battery.
Inhale and simply enjoy the long lasting vaping experience. When the vapour decreases significantly dispose of used cartomizer safely.

Compatible with all Gamucci Micro Models.

Cautions:
Toxic in contact with skin.
Do not swallow.
Not suitable for pregnant or breastfeeding women.
Please store in a cool dark place.
Once opened consume within 2 weeks, and once used dispose of safely. Contains Nicotine EC200-193-3.
Toxic if swallowed.
Very toxic in contact with skin.
Keep locked up and out of the reach of children.
In case of an accident or if you feel unwell seek medical advise immediately (show label where possible).
Not for sale to minors - over 18+ only.

Ingredients:
Nicotine 1.6% per ml. Other Constituents: Water, Propylene Glycol and Aromas.