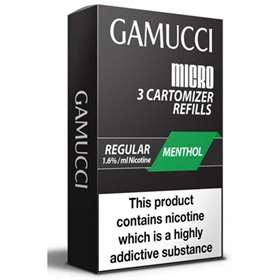 Click on image to enlarge



Price: £3.90 (incl VAT)
Sorry, this item is currently unavailable. Click here to receive notification when this product comes back into stock.
Compatible with ALL Gamucci Micro models including the Deluxe Kit, USB Starter Kit, Vitesse Starter Kit and the V2 Starter Kit.
Cool Menthol Blend.
Smooth with a Fresh Mint Flavour.
Approx 375 puffs per Cartomizer (Equivalent to almost 40 cigarettes)*.
Three Refills.
Caution:
Toxic if swallowed- Seek medical advise if you feel unwell.
Wash hands thoroughly after handling.
Keep locked up and out of the reach of children.

This product is only intended for purchase and use by adults of legal age.
Not for use by pregnant and nursing women.

Ingredients:
USP Propylene Glycol, USP Glycerine, Natural & Artificial Flavourings, USP Nicotine (1.6%/ml) EC200-193-3.