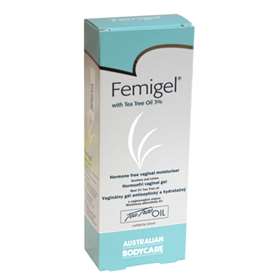 Click on image to enlarge
| | |
| --- | --- |
| Price: £7.59 (incl VAT) | Sorry, this product is no longer available. |
Femigel has changed pack size now available in 4 x 5 ml

Australian Bodycare Femigel Tea Tree Vaginal Moisturiser is a hormone-free vaginal moisturiser with tea tree (known for it's natural antiseptic and antibacterial properties). For the relief vaginal dryness, itching, irritation and discomfort.
3x5ml single use doses.
Easy to apply externally and internally.
Non-greasy, non-staining, non-irritant.
Safe to use with condoms.


Femigel is a natural way to help maintain vaginal lubrication, moisture and pH balance. It relieves symptoms such as itching, dryness and irritation. The tea tree acts as a natural antibacterial and antifungal agent and so helps to prevent recurrent thrush and candidal infection. Femigel coats the mucous membranes, to provide long lasting moisturisation and maintains healthy vaginal flora.

These conditions are common in women of all ages. Femigel is ideal for women going through the menopause and those who suffer vaginal aggravation due to stress, taking antibiotics and from using creams and soaps on the vagina.

Directions for use: Femigel comes in a pre-filled single use applicator. If you have mild symptoms it is suggested that you use a 5ml dose every 3 days until the problem clears. For a severe case, apply more frequently - twice daily if you have to. One you have treated your condition, it is recommended to continue using Femigel from time to time to maintain a healthy balance in the vagina.

To use, remove a Femigel tube from its wrapper and shake it so that the contents collect at the nozzle end. Next, twist and remove the cap from nozzle. At this stage, for more comfortable and easier application, it may be worth taking a seated or reclined position. Gently position the thin end of the applicator (the nozzle) into the vagina and squeeze external end to release the gel. Remove and discard the used applicator.

Ingredients: Aqua, PEG-40 Hydrogenated Caster Oil, Melaleuca Alternifolia (Tea Tree) 3%, Glycerin, Xanthan Gum, Sodium Chloride, Propylene Glycol, Diazolidinyl Urea, Methylparaben, Limonene, Linalool, Propylparaben.