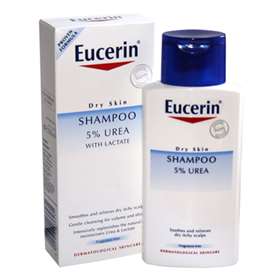 Click on image to enlarge



Price: £7.49 (incl VAT)
Sorry, this item is currently unavailable. Click here to receive notification when this product comes back into stock.
(Formerly known as Eucerin Dry Scalp Relief Shampoo.)

Eucerin Dry Skin Shampoo 5% Urea has been specifically formulated to treat dry, itchy and allergy prone scalps. It can also be used to treat atopic eczema and psoriasis.Eucerin Dry Skin Shampoo provides long lasting moisture by intensively replenishing the natural moisturisers Urea and Lactate. It provides gentle cleansing for dry or damaged hair and scalps, leaving the hair shiny and easy to manage.
200ml.
Clinically proven.
Suitable for dry, itchy and allergy prone scalps.
Fragrance free.
Colourant free.
The active ingredients Urea and Lactate are natural moisturisers which actively improve the moisture binding capacity of the skin. They provide long lasting moisture and reduce the feeling of tension of the skin.

Eucerin Dry Skin Shampoo provides gentle cleansing for irritated scalps, even dry and damaged hair becomes easy to style. It can also be used for adjunctive skin care, for instance in atopic eczema and psoriasis.

Ingredients: AQUA, COCO-GLUCOSIDE, DECYL GLUCOSIDE, GLYCERYL OLEATE, LATIC ACID, PEG-200 HYDROGENATED GLYCERYL PALMATE, PANTHENOL, POLYQUATERNIUM-10, SODIUM BENZOATE, SODIUM BANZOATE, SODIUM COCOAMPHOACETATE, SODIUM MYRETH SULPHATE AND UREA.