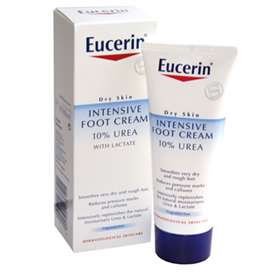 Click on image to enlarge



Price: £9.49 (incl VAT)
(Buy any 3 or more Eucerin products and save 5%)
Price: £9.49 (incl VAT)
(Buy any 3 or more Eucerin products and save 5%)
Eucerin Intensive Foot Cream is specially designed light oil-in-water formula for the care of dry, extremely dry, rough and chapped feet, with callus, cracks and pressure marks. It is also suitable for the care of feet in cases of diabetes, atopic eczema and psoriasis. The easily-absorbed oil-in-water emulsion protects the skin and prevents further moisture loss. The condition of the skin become noticeably smoother and more supple.


100ml.
Clinically proven.
Natural moisturising Urea (10%).
Protects skin and prevents further moisture loss.
Fragrance-free.
Colourant-free.
Easily absorbed.

The natural moisturising factor Urea 10% is in a light oil-in-water formulation developed with diabetologists and dermatologists to protect the skin and prevent further moisture loss.

Eucerin Foot Cream is fragrance and colourant free and its excellent efficacy and tolerability has been proven in clinical studies, even in severe cases and in diseased skin.

Clinical studies have shown that Eucerin Intensive Foot Cream with 10% Urea dramatically alters the amount of dryness, scaling and callosities and cracks. The biggest alterations were found in dryness and scaling. Clinical studies found 'in clinical dry skin the natural moisturising factors (NMF's) are reduced by 50% and in atopic eczema even up to 70% in affected areas. Especially the reduction of urea is responsible for the decreased water binding capacity of epidermal structures thus increasing they dryness of skin.' Eucerin 10% Urea Foot cream can be recommended as an effective and very well tolerated foot care product for the daily care of dry, extremely dry and chapped skin in xeroderma, diabetes and atopic eczema.

The results of the Eucerin Intensive Foot Cream clinical study can be reviewed here.

Ingrdients: Aluminium Starch Octenylsuccinate, Aqua, Caprylic/Capric Triglyceride, Carbomer, Cera Microcristallina, Cetearyl Alcohol, Dimethicone, Ethylhexyl Cocoate, Glycerin, Hydrogenated Coco-Glycerides, Lactic Acid, Octldodecanol, Paraffin Liquidum, PEG-40 Castor Oil, Phenoxyethanol, Sodium Cetearyl Sulfate, Sorbitan Stearate, Urea.


Product code: EUC96T
Price: £9.49 (incl VAT)
(Buy any 3 or more Eucerin products and save 5%)