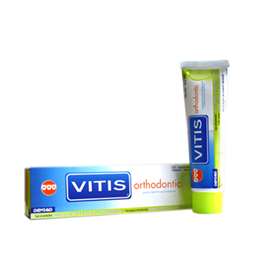 Click on image to enlarge
| | |
| --- | --- |
| Price: £3.99 (incl VAT) | Sorry, this product is no longer available. |
Vitis Orthodontic Toothpaste is a specialist paste made for those who wear braces and other orthodontic appliances.
Contains Cetilpiridine Chloride 0.05%, Sodium Fluoride, Allantoin and Aloe Vera.
Apple-Mint flavour.
Helps prevent against gingivitis, build of of bio-film, sores and other conditions such as these.
Suitable for adults and children aged 7 years and over.
Vitis Orthodontic Toothpaste is a apple-mint flavoured paste which not only cleans the teeth but also prevents against sores, ulcers, dental bio film build up, gingivitis, dental enamel de-mineralising, and bad breath.

The paste contains Cetilpiridine Chloride 0.05% which is a anti-bacterial ingredient. The Sodium Fluoride helps prevent tooth decay and re-mineralises the tooth enamel. The Aloe Vera and Allantoin are soothing ingredients added to help reduce the inflammation caused by wearing braces.

Directions for Use:
Apply a small amount of Vitis orthodontic tooth paste on an orthodontics specially designed tooth brush. Carefully brush your teeth after every meal, particularly in the areas where food debris and and dental bio film tend to build up.

Ingredients:
Aqua, Sorbitol, Silica, Glycerin, Xanthan Gum, Titanium Dioxide, Aroma, Sodium Laurylsulfate, Xylitol, soidum Gluconate, Sodium Fluoride, Sodium Saccharin, Sodium Methylparaben, Aloe Barbadensis, Allantoin, Cetylpyridinium Chloride, Lactic Acid, Limonene.