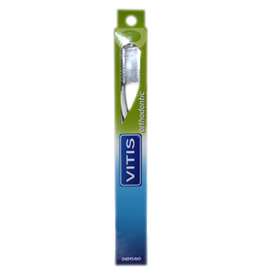 Click on image to enlarge



Price: £2.99 (incl VAT)
Sorry, this item is currently unavailable. Click here to receive notification when this product comes back into stock.
Vitis Orthodontic Regular Head Toothbrush has been specially designed for those who wear orthodontic appliances.
Regular size head.
Protective cap.
Ergonomic and flexible handle.
Tapered bristles.
Tynex end-rounded bristles.
Monotip attack zone.
Wearers of orthodontic appliances such as braces need to make sure they have a good dental hygiene routine. Braces encourage the growth of bacteria and make brushing difficult so it is important to use a brush that has been designed with this in mind.

Directions for Use:
Brush your teeth as you would if you were not wearing braces. Place the brush above the appliance at a 45 degree angle and move in circular motions for 10 seconds. Then do the same but place the brush below the appliance. Repeat for each tooth. For best results use with Vitis Orthodontic Toothpaste.