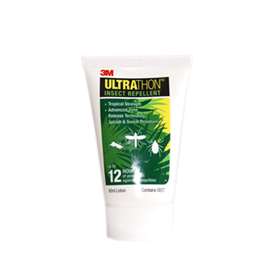 Click on image to enlarge
| | |
| --- | --- |
| Price: £6.69 (incl VAT) | Sorry, this product is no longer available. |
Ultrathon Insect Repellent Lotion is a tropical strength insect repellent containing an advanced Time Release Technology that provides longer lasting protection with less DEET. The unique Time Release Technology creates a balanced mix between concentration of DEET and long lasting protection. The DEET take longer to evaporate and provides protection for up to 12 hours from just one application.
60ml.
Tropical Strength, 34% DEET.
Advanced Time Release Technology.
Provides up to 12 hours protection per application.
Repels mosquitoes, biting flies, chiggers, ticks, gnats and fleas.
Splash and Sweat Resistant.
Military tested and used.
Ultrathon Insect Repellent was initially developed by 3M for the US Military to provide up to 12 hours of protection for their troops. It was very successful and is still used today. The advanced 3M formulation creates an effective barrier that repels mosquitoes that may carry diseases such as West Nile Virus, and ticks that may carry Lyme Disease.

3M Ulrtathon Insect Repellent Lotion will provide protection against insect transmitted diseases such as Malaria, Yellow Fever, Dengue Fever, Chikungunya Fever, West Nile Virus and Lyme Disease.

Ultrathon Insect Repellent is also splash and sweat resistant in order to ensure consistent protection through all outdoor activities.

Directions for use:
Squeeze into hand and apply just enough repellent to cover exposed skin.
During application, avoid contact with eyes and lips and use sparingly around ears.
Do not cover cuts, wounds or irritated skin.
Reapply as necessary (after swimming or depending on environmental conditions).
Avoid over application of the product.

Please Note: Temperature, humidity and other environmental factors can all contribute to the duration of protection provided by insect repellents. However, Ultrathon has been tested in the harshest environments in the world, the Central American Jungle and proved durable and effective.

Caution and Warnings:
Always read the label/leaflet.
Suitable for children over 6 months.
N,N-Diethyl-m-toluamide irritating to eyes.
Do not apply on cuts, wounds or irritated skin.
Do not use under clothing.
Avoid contact with spectacles, plastics, acetate, rayon, leather and painted or varnished surfaces.
Harmful or aquatic organisms.
May cause long-term adverse effects in the aquatic environment.
If swallowed, seek medical advice immediately and show the container/label.
Does not harm nylon, cotton or wool.
Keep out of reach of children.
Avoid release to the environment.

Ingredients:
Water, N,N-Diethyl M-Toluamide, Inert Ingredients.