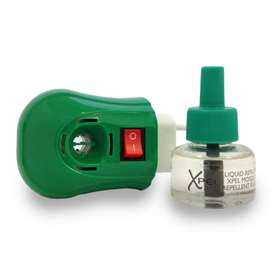 Click on image to enlarge



Price: £1.95 (incl VAT)

The Xpel tropical formula two pin plug-in diffuser with repellent cartridge. The cartridge contains an odourless solution that deters and repels mosquito's, midges and many more small biting insects. Xpel plug in can be used in Countries using the 2 pin electrical sockets which are used in many holiday and business locations including Europe. The Xpel plug-in will automatically adjust to the voltage of 220-240 volts.
Up to 45 days protection.
Deters Mosquito's and other small biting insects.
Widely used two pin plug.
Instructions:
Remove cover from the Xpel refill cartridge.
Insert cartridge in to the plug in device and twist.
Insert the plug in into a suitable electrical socket.
Activate the Xpel mosquito and insect plug in by pressing the red switch to the on position.
Activate 1-2 hours before sleeping.

Cautions:
Please follow the cautions and instructions carefully.
Avoid contact with skin and eyes, wash any excess spillage immediately.
Hands should be washed immediately after use.
Place out of the reach of children.
Seek medical advice if swallowed and show the label on the packaging.
Do not touch the plug-in with wet or damp hands or metal objects.
The Xpel Plug-in contains hot surfaces allow the plug-in to completely to cool down before putting away.
People with asthma or other respiratory conditions are advised to seek medical advise before use.
Only use the Xpel plug-in with Xpel cartridge refills.
Do not cover the plug-in device in any way when in use.

Dispose of the contents in a safe and responsible way.

Ingredients:
Dipentin, Alpha Pinene.


| | | | | |
| --- | --- | --- | --- | --- |
| Product code: 6002901 | | Price: £1.95 (incl VAT) | | |