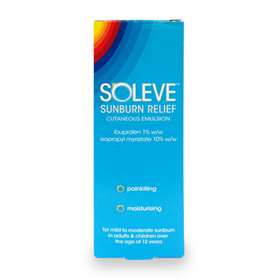 Click on image to enlarge



Price: £8.25 (incl VAT)

Soleve Sunburn Relief 100ml A smooth, white emulsion containing ibuprofen an anti-inflammatory painkiller, and isopropyl myristate, a moisturiser, to relieve the discomfort of mild to moderate sunburn and help rejuvinate and moisturise the skin.
100ml bottle.
Cutaneous Emulsion.
Painkilling and moisturising properties.
Contains ibuprofen 1% w/w and isopropyl myristate 10% w/w.
For mild to moderate sunburn in adults and children over the age of 12 years.
Soleve is not a sunscreen or sunblock and will not protect your skin from the sun

Direction for Use:
For adults, the elderly and children over 12 years old:
Use Soleve as soon as possible after the first sign of sunburn.
Lightly apply the lotion to the affected areas and massage gently into the skin.
Use the lotion at regular intervals, up to eight times a day, leaving at least two hours between applications.
The lotion spreads very easily (a little goes a long way) and you will not need to apply very much.
The amount needed depends on the area which is sunburnt, but as a very rough guide, an amount ranging from a 1 penny piece to a 2 penny piece will usually be sufficient.
Do not apply more than 12ml at a time, or more than 100ml a day.
As a guide, the cap holds approximately 12ml.
Wash hands after use, unless treating them.
The lotion is designed to resist being washed off whilst swimming or bathing.
Use the lotion for a maximum of two to three days, by which time your symptoms should have subsided.
If your symptoms worsen, or continue for more than a few days, you should consult a doctor or pharmacist.
Where Soleve is used on children, it should always be applied by an adult.

Cautions and warnings:
If the sunburn is severe you should not use Soleve Sunburn Relief 100ml. Seek medical advice immediately. Symptoms of severe sunburn include blistered skin, intense pain, intolerance of any contact with clothing, fever, chills, feeling sick and extreme exhaustion or lack of energy.
Do not use if you are allergic to ibuprofen, isopropyl myristate or any other ingredients in Soleve.
Do not use if you are pregnant or breastfeeding.
Do not use if you are asthmatic, suffer from rhinitis or urticaria.
Do not use on children under 12 years of age.
Do not use on infected, diseased, broken or damaged skin.
Do not apply a double amount of Soleve to make up for a forgotten application.
Because Soleve Sunburn Relief is applied directly to the skin, there is less risk of the complications that sometimes occur when ibuprofen (or a similar anti-inflammatory painkiller) is taken by mouth. However, in rare cases you may be at more risk of complications:
If you have a stomach ulcer (also called a peptic or gastric ulcer).
If you have ever had kidney problems.
If you have ever had asthma.
If you have ever had a bad reaction to aspirin or ibuprofen taken by mouth.
Soleve Sunburn Relief 100ml is NOT a sunscreen or sunblock and will not protect your skin from the sun. It is designed for short-term use to relieve sunburn and should not be used as a general aftersun lotion. Always read the enclosed leaflet thoroughly before using Soleve Sunburn Relief.




| | | | | |
| --- | --- | --- | --- | --- |
| Product code: 3776804 | | Price: £8.25 (incl VAT) | | |