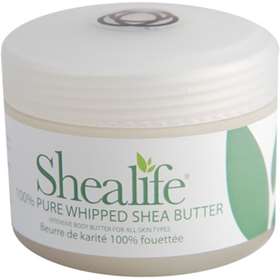 Click on image to enlarge
| | |
| --- | --- |
| Price: £6.99 (incl VAT) | Sorry, this product is no longer available. |
Shealife 100% Pure Whipped Pure Shea Butter is unique for its cosmetic and therapeutic benefits. For over 1000 years, women have used Shealife Pure Shea Butter as a miraculous skin cream for the treatment of dry, damaged and ageing skin.

Shealife Shea Butter's unparalleled moisturising properties are due to variety of natural moisturisers present in the cream. Pure Shea Butter is known to be an outstanding moisturiser with exceptional healing properties for the skin.

What sets Shea Butter apart from other seed oils is its exceptionally large healing fraction (nonsaponifiable fraction), which contains key nutrients, vitamins, and other valuable phyto-nutrients essential for healing.

The moisturisers (saponifiable fraction) in Shealife 100% Pure Whipped Pure Shea Butter are the same moisturisers produced by the sebaceous glands in the skin. The size of the healing fraction in shea butter is high, and unparalleled to other seed oils. As you use this multi-purpose cream you can expect to discover additional uses.

Shealife 100% Pure Whipped Pure Shea Butter improves:

Skin peeling, after tanning

Massage oil or base oil

Sunburn prevention

Tough or rough skin (on feet)

Small skin wounds

Skin cracks

Supports treatment of dermatitis

Skin rash or skin salve

Anti ageing skin cream

Sensitive skin

Stretch mark prevention during pregnancy

Shaving cream for a smooth silky shave

Supports treatment of eczema and psoriasis

Dry skin conditioning

Shealife 100% Pure Whipped Pure Shea Butter is vegetarian friendly and registered with Vegan Society, made in the UK and comes in a 100g tub.

Directions of use:
Apply and massage into to dry skin.
Use within 6 months of opening.

Ingredients:
Butyrospermum Parkii (Shea Butter).