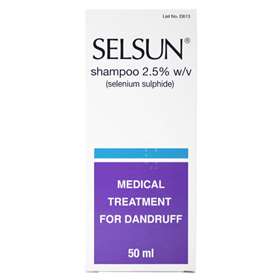 Click on image to enlarge



Price: £2.19 (incl VAT)

Selsun Shampoo 50ml is a medical treatment for dandruff and seborrhoea dermatitis.

Selsun Shampoo is a medicated shampoo used to treat dandruff and seborrhoea dermatitis. Selsun Shampoo works against dandruff in two ways; by reducing greasiness of the scalp and by slowing down growth of the layer of skin cells on the scalp that cause dandruff.

Selsun shampoo is a thick beige suspension that contains selenium sulphide 2.5% w/v as the active ingredient.

Directions for use:
Selsun Shampoo is not recommended to treat children under 5 years old.
Children aged 5-14, adults and elderly; Apply liberally twice weekly for next two weeks and then once weekly for next two weeks. Thereafter use only as often as necessary to control the condition.

Other ingredients:
Purified Water, Monoethanolamine Lauryl Sulphate, Empigen BB, Bentonite, Glyceryl Monoricinoleate S, Sodium Chloride, Titanium Dioxide, Perfume, Sodium Dihydrogen Phosphate Dihydrate, Citric Acid.








| | | | | |
| --- | --- | --- | --- | --- |
| Product code: 0257394 | | Price: £2.19 (incl VAT) | | |