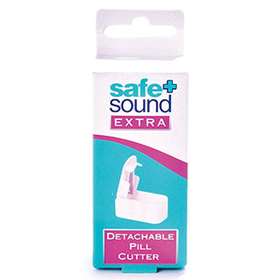 Click on image to enlarge



Price: £1.99 (incl VAT)
Sorry, this item is currently unavailable. Click here to receive notification when this product comes back into stock.
This pill cutter is ideal for safely cutting pills and vitamins. The handy pill cutter can attach onto your safe & sound push button 7 day detachable pill box.

Directions:

With the pill cutter on a firm flat surface open the cutter and carefully place the pill between the guidelines.
Steadily bring the blade section fully down to cut pill.
Keep fingers away from blade at all times.
Retrieve the cut pill by opening the unit.
Wash entire unit before first and subsequent uses as required, with warm soapy water.
Rinse well and dry with a soft cloth.
Do not boil, steam sterilise or place in a microwave.
Warnings:
Keep this item away from children at all times.
Sharp blade may present serious risk of injury through cutting.
Not suitable for use by infirm patients.
Not all tablets are suitable for crushing or cutting. Speak to your pharmacist for advice.