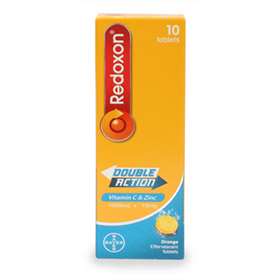 Click on image to enlarge



Price: £4.50 (incl VAT)
Sorry, this item is currently unavailable. Click here to receive notification when this product comes back into stock.
When you lead a busy active life some additional support is always welcome. Redoxon Double Action is a combination of high strength Vitamin C and Zinc to help support your immune system. Both essential nutrients in the Double Action formula complement each other to support your body's immune defence.
Vitamin C and Zinc help your immune system function.
Zinc helps maintain your skin - the body's first line of defence.
Free From Preservatives.
Yeast.
Gluten Containing Ingredients.
Suitable for Vegetarians and Vegans.
Contains Vitamin C and Zinc.
Directions for Use:
Adults: Dissolve 1 tablet a day in a glass of water to make a refreshing orange drink.

Children 6 - 12 years old: Half a tablet a day.

As our bodies cannot store Vitamin C for any length of time regular use is recommended.

Ingredients:
Vitamin C (Ascorbic Acid), Sodium Hydrogen Carbonate, Citric Acid, Bulking Agent (Isomalt), Flavour Enhance (Malic Acid), Flavouring, Sodium Carbonate, Sweeteners (Aspartame, Acesulfame K), Zinc (Zinc Citrate Trihydrate), Salt, Colour (Beta-Carotene), Coconut Oil, Sucrose, Antioxidants (Sodium Ascorbate and DL-Alpha Tocopherol), Maltodextrin, Acacia.
Contains a source of Phenylalanine.