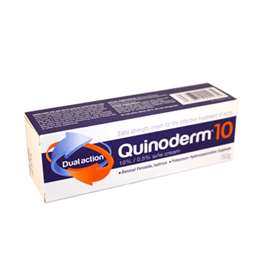 Click on image to enlarge
| | |
| --- | --- |
| Price: £3.70 (incl VAT) | Sorry, this product is no longer available. |
Quinoderm Cream - A cream for the treatment of acne - Contains Benzoyl peroxide 10% w/w, Potassium hydroxyquinoline sulphate 0.5% w/w.

Quinoderm contains two active ingredients; the Benzoyl peroxide is an antibacterial and a keratolytic which means it breaks down surface skin cells. It helps to reduce blemishes by breaking down the top layer of the skin thus making it shed, removing comedones and unblocking pores. It also helps to prevent excessive sebum production and future comedones. The Potassium hydroxyquinoline sulphate has antibacterial qualities and is added to reinforce the properties of the Benzoyl peroxide.

Directions for Use: Apply thinly 2/3 times daily by massaging over the affected area.

Ingredients: BENZOYL PEROXIDE BP 10.0% POTASSIUM HYDROXYQUINOLINE SULPHATE BP 0.5%. Lactic Acid BP, White Soft Paraffin BP, Edetic Acid BP, Sodium Acid Phosphate BP, Maize Starch BP, Cetyl Stearyl Alcohol, Sodium Cetyl Stearyl Sulphate, PEG 40 Castor Oil, Purified Water BP.

Warnings: DO NOT APPLY NEAR THE EYES OR MOUTH. DO NOT USE IF YOU HAVE A KNOWN ALLERGY TO ANY OF THE INGREDIENTS. READ ALL PATIENT INFORMATION BEFORE USING THIS PRODUCT. THIS PRODUCT SHOULD NOT BE USED BY THOSE WITH ROSECEA.