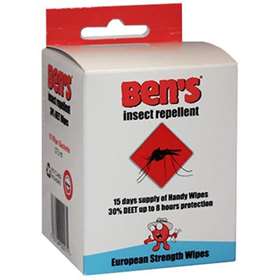 Click on image to enlarge



Price: £6.19 (incl VAT)
(Buy any 3 or more Ben's 100 products and save 3%)
Price: £6.19 (incl VAT)
(Buy any 3 or more Ben's 100 products and save 3%)
Ben's Insect Repellent Wipes - Effectively repels mosquitoes & biting insects.

Ben's Insect Repellent Wipes are easy to carry and convenient to use towelettes containing DEET, the world's most effective repellent. Ben's wipes are suitable for the whole family over 2 years of age protecting against mosquitoes midges, ticks and other types of biting insects for up to 8 hours.

Directions for Use: For adults and children over the age of two years. Tear open sachet. Remove and unfold wipe. Apply carefully to all exposed skin. Re-apply as necessary depending on environmental conditions. If using a sunscreen apply Ben's last.

Precautions:
Do not apply over cuts, wounds, or irritated skin.
Avoid getting in eyes.
May cause temporary eye injury.
Wash skin and/or clothing thoroughly with soap and water after use.
May cause skin reactions in rare cases.
If so, wash treated skin and seek medical attention.
Take the repellent with you.
For external use only.
Harmful if ingested.
Not recommended for children below 2 years old.
Application to young children should be supervised by an adult.
Keep off synthetics, plastics, furniture and paints.
May damage leather.
Do not use under clothing.
Do not apply to the eyes and mouth or to hands of young children.
Store in a cool dry place.
Keep out of the reach of children.
Please dispose of responsibly.

Active Ingredients:
N.N Diethy-M-Tolumide (DEET) 30%.

Ingredients:
N.N Diethy-M-Tolumide CAS No. 134-62-3 (DEET) 30%, Water CAS No. 7732-18-5, Dipropylene Glycol Monomethyl Ether CAS No. 34590-94-8, Propylene Glycol CAS No. 57-55-6, Denatonium Benzoate (Bitrex) CAS No. 3734-33-6.




Product code: BEN623D
Price: £6.19 (incl VAT)
(Buy any 3 or more Ben's 100 products and save 3%)