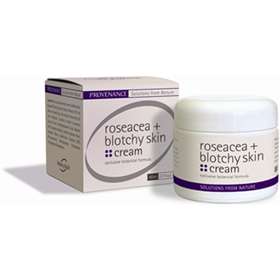 Click on image to enlarge
| | |
| --- | --- |
| Price: £12.99 (incl VAT) | Sorry, this product is no longer available. |
Rosacea (a flushing or redness of the skin) and blotchy skin can be embarrassing and uncomfortable. Provenance Roseacea + Blotchy Skin Cream can help reduce the symptoms...

Key Ingredients:
MDI™ Complex: this cosmetic ingredient has been clinically shown to prevent matrix metalloproteinase(MMP) - enzymatic activites that degrade and ultimately destroy the collagen network of the skin.

AC Net™: this compound is clinically proven to help reduce the symptoms of acne. AC Net™ contains oleanolic acid, which fights hyperseborrhea (over secretion of sebum), and nordihydroguaiaretic acid, which prevents hyperkeratosis (thickening of the outer layer of skin which can block pores) and inflammation.

Further ingredients:

Vitamin B3: helps reduce red botches.

Flax Seed Oil: helps keep skin soft and smooth.


Lightly scented.

Cruelty-free.

pH balanced.

Suitable for sensitive skin.

Non-comedogenic (will not clog pores).

Ingredients: Aqua, C12-15 Alkyl Benzoate, Niacinamide, Glycerin, Cyclomethicone, Cetearyl Alcohol, Cetyl Alcohol, Ceteareth-20, DEA Cetyl Phosphate, Tocopheryl Acetate, Stearic Acid, Glycosaminoglycans, Borago Officinalis, Linum Usitatissimum, Nordihydroquaiaretic Acid, Oleanolic Acid, Caprylyl Glycol, PEG-60 Almond Glycerides, Retinyl Palmitate, Tocopherol, Dimethicone, Phenoxyethanol, Butylene Glycol, Carbomer, Parfum, Methylparaben, Propylparaben, Disodium EDTA.