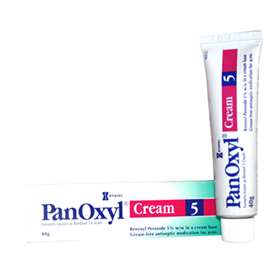 Click on image to enlarge



Price: £2.89 (incl VAT)
Sorry, this item is currently unavailable. Please consider purchasing Quinoderm Cream 5 50g (5% Benzyl Peroxide) instead.
Panoxyl Cream 5 - An effective treatment for mild to moderate acne.
Cream containing: 5% Benzoyl peroxide.
Treatment of acne vulgaris.
For adolescents and adults.
40g aluminium, foil sealed tube.
Panoxyl Cream 5 is the cream available in the Panoxyl range, containing 5% of the active ingredient. Panoxyl Cream is safe to use daily and results should start to appear within 2 weeks. It does not contain overpowering perfume smells or medicated smells. The active ingredient Benzoyl peroxide acts as an antibacterial and a peeling agent, leaving the skin less greasy.

Directions: Ensure area is washed and completely clean before application, then smooth sparingly onto affected area (not just the individual spots) once a day. Wash hands after use. (If it does not smooth into the skin easily then it is because you are using too much).

Important Information! Avoid contact with eyes and delicate areas.
Panoxyl sometimes stings and tingles the skin, with the feeling of a warm sensation. This reaction is normal, particularly on the first use. Also, to begin with, you may notice the skin flaking slightly. Again, this is normal and may continue for a few weeks until your skin has gotten used to the active ingredient in the gel. If you find these affects a nuisance then lessen the amount of times you use this product.

If you suffer painful burning, itching or other uncomfortable side affects from using Panoxyl, discontinue use and seek medical advise.

Full Ingredients: Benzoyl Peroxide • Polyethylene Glycol 1000 Monostearate • Stearic Acid • Glyceryl Monostearate • Isopropyl Palmitale • Propylene Glycol • Zinc Stearate • Purified Water.