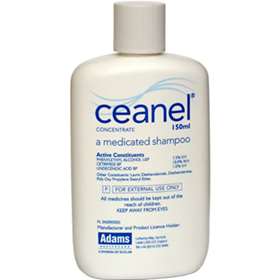 Click on image to enlarge



Price: £4.70 (incl VAT)
Sorry, this item is currently unavailable. Click here to receive notification when this product comes back into stock.
Ceanel Concentrate 150ml is a clear, viscous golden-yellow coloured liquid containing: Undecenoic acid 1% v/v, Cetrimide 10% w/v, Phenylethyl alcohol 7.5% v/v. An adjunct in the management of psoriasis of the scalp, seborrhoeic dermatitis, dandruff and psoriasis of the trunk and limbs.

Directions of use:

For scalp conditions:
Adults and children wet scalp and hair with warm water. Apply half to one teaspoonful to the wetted scalp and work up to a lather with water, rinse and repeat. Finally, rinse thoroughly. Use 3 times in the first week, twice weekly thereafter.

Other body areas:
Wet area to be treated, apply sufficient to cover wetted area leaving in contact for 2 minutes then thoroughly rinse with warm water. Use as required.