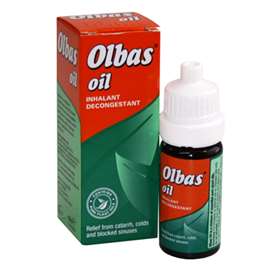 Click on image to enlarge



Price: £4.70 (incl VAT)
(Buy any 3 or more Olbas products and save 5%)
Price: £4.70 (incl VAT)
(Buy any 3 or more Olbas products and save 5%)
Olbas Oil 28ml is made of a mixture of pure plant essential oils including eucalyptus, cajuput, wintergreen, clove, juniper berry and mint that relieve bronchial and nasal congestion caused by colds, catarrh, influenza and hay fever, rhinitis and minor infections of the upper respiratory tract.
28ml.
Contains pure plant oils.
Non-greasy.
Active ingredients cajeput, clove, wintergreen, eucalyptus, juniper berry and mint.
Suitable for use by children aged 3 months and older.
Olbas provides symptomatic relief of muscular pain and stiffness including backache, sciatica, lumbago, fibrositis and rheumatic pain.

Directions for use:
As an inhalant for children aged 3 months to 2 years and over, add 1 drop of Olbas Oil to a tissue and hold close to nose allowing child to breathe in vapours. As an inhalant for adults and children aged 2 years and over, add 2 to 3 drops to a tissue. As a rub, adults and children aged 12 and over to massage Olbas Oil neat into the painful area 3 times daily.

Ingredients:
Cajuput Oil (18.5%), Clove Oil (0.1%), Eucalyptus Oil (35.45%), Juniperberry Oil (2.7%), Levomenthol (4.1%), Methyl Salicylate (3.7%), Partly Dementholised Mint Oil (35.45%).


Product code: 0200394
Price: £4.70 (incl VAT)
(Buy any 3 or more Olbas products and save 5%)