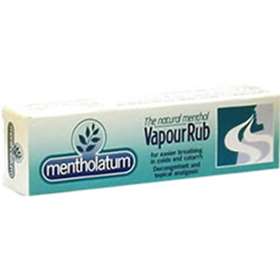 Click on image to enlarge



Price: £2.21 (incl VAT)
Sorry, this item is currently unavailable. Click here to receive notification when this product comes back into stock.
Anhydrous ointment containing Camphor 9% w/w, Menthol 1.35% w/w, Methyl salicylate 0.33% w/w.
Symptomatic relief of colds, catarrh, hayfever, muscular pain and stiffness, backache, sciatica, lumbago, fibrositis, rheumatic pain, bruises, chilblains, minor skin conditions, dry and chapped skin, nettle rash, insect bites, stings and itching.
Adults and children over 1 year: apply 2-3 times daily.
Colds, catarrh and hayfever - allow inhalation of vapour following either rubbing into chest, throat and back, or melting 1 teaspoonful in a bowl of hot water.
Muscular pain and stiffness - rub into affected part.
Minor skin conditions (including dry and chapped skin) - dab a small amount lightly onto affected skin.
Not recommended under 1 year.