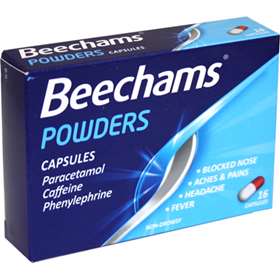 Click on image to enlarge
| | |
| --- | --- |
| Price: £2.99 (incl VAT) | Sorry, this product is no longer available. |
Beechams Powders Capsules 16 provide relief from cold and flu symptoms with decongestant for catarrh in a convenient, completely tasteless and easy to swallow form.


16 capsules.
Contains paracetamol 500mg, caffeine 25mg and phenylephrine hydrochloride 5mg.
Contains lactose and colours amaranth (E123) and sunset yellow (E110).

Beechams Powders Capsules offer symptomatic relief of influenza, feverishness, chills and colds including feverish colds and nasal congestion and breathing difficulties arising from this, sinusitis and associated pain and acute nasal catarrh.

Directions for use:
Adults and children aged 12 years and over to take 2 capsules every 4 to 6 hours. Do not give to children under 12 years of age. Do not take for more than 7 days except on medical advice. Do not take with any other paracetamol-containing products.

Precautions:
Consult your doctor before taking this medicine, if you are under the care of your doctor or receiving prescribed medicines or are pregnant, if you suffer from kidney or liver disease. Do not exceed the stated dose. Do not take with other flu, cold or decongestant products and avoid excessive intake of caffeine.

Ingredients:
Paracetamol, Phenylephrine Hydrochloride, Caffeine, Lactose, Colloidal Silica, Dimeticone, Amaranth (E123), Erthyrosine (E127), Sunset Yellow (E110), Titanium Dioxide (E171), Gelatin.