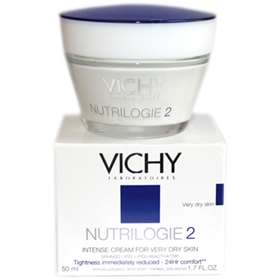 Click on image to enlarge



Price: £13.90 (incl VAT)
(Buy any 3 or more Vichy products and save 5%)
Price: £13.90 (incl VAT)
(Buy any 3 or more Vichy products and save 5%)
Vichy Nutrilogie 2 Intense Cream For Very Dry Skin immediately reduces the tightness associated with dry skin types and provides 24 hour* comfort.

Vichy Nutrilogie 2 Intense Cream For Dry Skin is a non-greasy rich cream suitable for day or night, that moisturises and enriches dry skin types. The Nutrilogie 2 cream is full of plant oils that contain essential fatty acids and glycerine which nourish, feed and soothe dry skin. Vichy offer a new generation of textures within the Nutrilogie range; a smoothing, non-sticky Oleosome-based texture that enables the cream to be absorbed quickly into the skin without leaving a greasy film.


50ml pot of Vichy Nutrilogie 2 cream for very dry skin.
76% reduction in the appearance of dryness**.
Tested under dermatological control.
Hypoallergenic; tested on sensitive skin.
Contains Vichy Thermal Spa Water.
Non comedogenic.

Dry skin is unable to produce its own lipids which causes the surface of the skin to look and feel dry. When the skin is lacking in lipids and cannot make enough of its own the texture can be taut, flaky and rough to the touch, the appearance can be dull and lacking in radiance. The Vichy Nutrilogie 2 Cream contains a unique ingredient; Sphingo-lipid, a molecule that encourages the skin to reactivate the reformation of its own lipids***;


Anti free-radical complex; to fight off free radicals that can cause premature ageing.
Vichy Thermal Spa Water; enriched with minerals to nourish the skin.
Plant oils rich in essential fatty acids; to moisturise and promote lipid production.
Parleam- to moisturise the skin.
Glycerine; attracts and holds moisture in the skin.

Dermatologists have found that dry skin is unable to efficiently maintain the production of lipids, bringing about a extreme deficiency in lipids. These skin lipids are the key components of the inter-cellular cement that ensures the comfort and suppleness of the skin. When inter-cellular cement lacks lipids the skin pulls easily, marks easily and becomes rough and loses radiance.
Biological innovation for dry skin; the Patented Sphingo-Lipid. The Sphingo-Lipid molecule is the result of 10 years of advanced dermatological research. The Sphingo-Lipid molecule can help skin that pulls painfully during facial movements, skin that becomes rough and loses its radiance easily and skin that marks more easily with lines and redness. For the first time in the Vichy skincare range, the Sphingo-Lipid goes deeper than the surface of the skin and actually encourages the natural production of lipids, a failing function of dry skin. The results of using the Vichy Nutrilogie 2 cream that contains Sphingo-Lipid is a soothing of taut skin, guaranteed 24 hour comfort and elasticity of the skin. The dry skin is progressively conditioned towards normal skin if the Nutrilogie 2 cream is used as part of a daily skin care regime.

Directions for use:
Apply Nutrilogie cream to a well cleansed face, morning and/or evening. Massage in gently, concentrating on particularly dry areas, for best results. Make-up can be applied over the Nutrilogie 2 cream straight away.

Ingredients:
Aqua, Glycerin, Prunus Armeniaca Kernel Oil, Isocetyl Stearate, Butyrospermum Parkii Butter, Cyclopentasiloxane, Sucrose Tristearate, Hydrogenated Polyisobutene, Pertrolatum, Polysorbate 61, Cera Alba, Stearyl Alcohol, Stearic Acid, Macadamia Ternifolia Seed Oil, Carbomer, Carbomer, Triethanolamine, Methylparaben, Corandrum Sativum Oil, Cholesterol, 2-Oleamido-1, 3-Octadecanediol, Simmondsia Chicnenis Oil, Phenoxyethanol, Tocopherol, Disodium EDTA, Caprylyl Glycol, Hydroxypalmitoyl Sphinganine, Passiflora Edulis Oil, Bytylparaben, Parfum.

*Auto-evaluations on 100 women.
**Visualisation of dryness improvement by visioscan on 30 women.
***In-vitro test.


Product code: M5061001
Price: £13.90 (incl VAT)
(Buy any 3 or more Vichy products and save 5%)