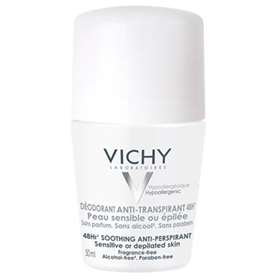 Click on image to enlarge



Price: £7.85 (incl VAT)
(Buy any 3 or more Vichy products and save 5%)
Price: £7.85 (incl VAT)
(Buy any 3 or more Vichy products and save 5%)
Vichy Sensitive anti-perspirant roll-on is for women or men with sensitive or depilated skin looking to combine anti-perspiration efficacy and ultra-tolerance. The Vichy deodorant regulates perspiration for up to 48 hours and takes care of your sensitive skin.

The Vichy sensitive roll-on has a gentle formula, specially adapted for sensitive and depilated skin. The active ingredients of this anti-perspirant is combined with soothing Proline Cutei give your skin up to 48 hours of anti-perspiration efficacy and tolerance.
Hypoallergenic.
Paraben-free.
Alcohol-free.
Fragrance-free.
Directions of Use:
Apply daily to clean, dry armpits.


Product code: M5907901
Price: £7.85 (incl VAT)
(Buy any 3 or more Vichy products and save 5%)