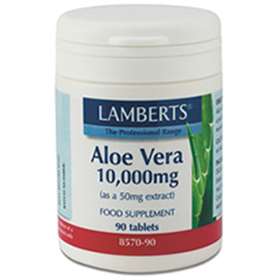 Click on any image to enlarge



Price: £8.05 (incl VAT)
(Buy any 3 or more Lamberts products and save 5%)
Price: £8.05 (incl VAT)
(Buy any 3 or more Lamberts products and save 5%)
Lamberts Aloe Vera 10,000mg
Aloe vera is the most widely used of over 300 aloe species, most of which are native to South Africa but centuries ago became distributed via major trade routes.

Aloe Vera aids in cleansing the intestines and detoxifying the body as well as stimulating the immune system and helping to maintain a healthy digestion. Not only that, but Aloe Vera can also assist with the absorption of vitamins and minerals in your intestine.
90 tablets.
Suitable for vegetarians and Vegans..
Helps to maintain a healthy digestive system.
Cleansing and detoxifying properties.
A high quality, concentrated Aloe Vera extract.
An easy, convenient alternative to fresh Aloe Vera juice.
Today, aloe vera is a popular houseplant and the plant may be used in its simplest form by applying the gel topically. The gel is obtained by simply breaking the thick triangular leaves near their base and squeezing the fresh sap directly onto dry skin, abrasions or burns. The gel spoils quickly but can be made into an ointment, which can then be kept for long-term use.

The juice comes from specialised cells beneath the thick outer skin of the leaves and contains a proportion of gel. Of the many historical uses for drinking aloe vera juice, the herb is best known for its effect in helping to maintain a healthy digestive system. However, the juice has a bitter taste and therefore a more convenient way to take the herb is in the form of capsules. Lamberts Aloe Vera capsules contain 50mg of concentrate equivalent to 10,000mg of fresh aloe vera juice.

Dosage:
1 to 2 tablets daily.

Disintegration Time:
Less than 1 hour.

Caution: Lamberts Aloe Vera is not recommended for pregnant or lactating women.

Ingredients per tablet:
Aloe Vera extract equivalent to 10,000mg (as 50mg of a 200:1 extract). Tableted with: Cellulose, DiCalcium Phosphate, Silicon Dioxide, Stearic Acid, Magnesium Stearate, Tablet Coating (Hydroxypropyl Methylcellulose, Glycerin).






Product code: 8570-90
Price: £8.05 (incl VAT)
(Buy any 3 or more Lamberts products and save 5%)