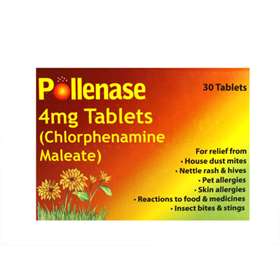 Click on image to enlarge



Price: £1.70 (incl VAT)
Sorry, this item is currently unavailable. Click here to receive notification when this product comes back into stock.
Pollenase Chloraphenamine Maleate Tablets 4mg (30) For the relief from;
House and Dust Mites.
Nettle Rash and Hives.
Pet Allergies.
Skin Allergies.
Reactions to Food and Medicines.
Insect Bites and Stings.
Direction for Use: For Oral use only. Chloraphenamine tablets should be taken orally with a drink of water.

Adults and Children aged 12 years and over One tablet every 4 to 6 hours. Maximum daily dose: 6 tablets (24mg) in any 24 hour period.

Elderly The elderly are more likely to experience side effects such as confusion. You may need to take a lower daily dose eg. a maximum of 3 tablets (12mg) in any 24 hour period. (one tablet every 4 to 6 hours)

Children Aged 6 to 12 years Half a tablet every 4 to 6 hours. Maximum daily dose: 6 half tablets (12mg) in any 24 hour period.

Cautions and Warnings: Not to be used by children under 6 years. Keep out of the sight and reach of children. If symptoms persist please seek consultation with your Doctor. Do not use if you are pregnant or breast feeding. Consult your Doctor if you take other medications. These tablets may cause drowsiness. Avoid alcoholic drink.

Ingredients: Each Tablet contains 4mg Chloraphenamine Maleate, and lactose monohydrate.

Do not store above 25°