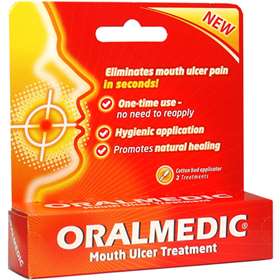 Click on image to enlarge



Price: £6.13 (incl VAT)
Sorry, this item is currently unavailable. Click here to receive notification when this product comes back into stock.
Eliminate mouth ulcer pain in seconds!

One application of Oralmedic® stops the pain and discomfort of a mouth ulcer fast. It works by forming a protective barrier over the ulcer to provide optimum conditions for natural healing.
One-time use -no need to reapply.

Hygienic application.

Promotes natural healing.

Cotton bud applicator.

2 treatments - 2 single use applicators each containing 0.2ml of HYBENX® solution.
Please note: a single application per ulcer treatment is usually sufficient. Ulcer pain remaining immediately after rinsing with water is a sign that part of the ulcer was not covered. If this occurs, repeat application using a new applicator and re-rinse. Do not treat an individual ulcer in more than one treatment session.

If pain persists consult your doctor. Do not use if allergic to materials that contain sulphur. Do not use if you are pregnant, or on children under the age of 12.
Instructions for use:

1. Dry affected area using the cotton drying bud.

2. Hold the applicator with coloured ring up. Gently bend the coloured ring to one side until it snaps. Oralmedic will flow to the opposite end.

3. Apply to the affected area for 5-10 seconds, ensuring the entire ulcer is covered. A brief "stinging" sensation is experienced immediately upon application.

4. Rinse mouth thoroughly with water and spit out.
For more information please visit the Oralmedic Website.