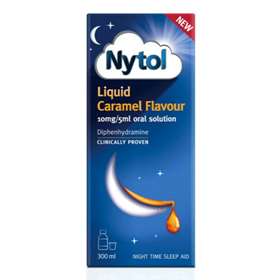 Click on image to enlarge



Price: £9.75 (incl VAT)

Nytol Liquid Caramel Flavour is clinically proven sleep aid liquid, providing an alternative to sleeping tablets. It contains active ingredient diphenhyramine 10mg per 5ml which is an anti-histamine. Histamine is involved in the brain's waking system so diphenhydramine can help alleviate temporary sleeplessness.
Use as temporary sleep aid
Also used for hay fever, stings, rashes or other minor allergies
Contains sucrose (not sugar free)
Not recommended as sleep aid in children under 16
Directions for use:
As sleep aid:
Adults and children over 16: 10 to 25ml to be taken at bedtime.

As a anti-histamine:
Adults and children over 12: Two 5ml spoonfuls three or four times a day.
Children 6 to 12 years old: One 5ml spoonful three times a day.
Children 1 to 5 years old: Half to one 5ml spoonful three times a day
Children under 1 year old: Half a 5ml spoonful three times a day

Do not take this medicine if :
You have a peptic ulcer, a blockage between your stomach and small intestine and pregnant or breastfeeding.

Ingredients:
Diphenhydramine Hydrochloride, Sucrose, sodium saccharin, glycerin, parahydroxybenzoates (methyl E218, ethyl E214, propyl E216 & butyl), propylene glycol, caramel flavouring, caramel E150 and purified water.







| | | | | |
| --- | --- | --- | --- | --- |
| Product code: 4107959 | | Price: £9.75 (incl VAT) | | |