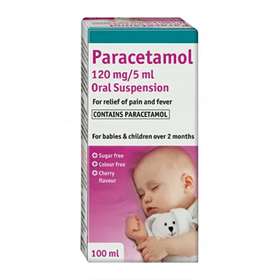 Click on image to enlarge



Price: £1.99 (incl VAT)
Sorry, this item is currently unavailable. Click here to receive notification when this product comes back into stock.
Numark Paracetamol Suspension 100ml oral suspension for babies and children. For relief of mild to moderate pain and feverishness associated with teething, toothache, headache, colds, flu and post-immunisation fever.
For children 2 months and over.
Sugar free.
Cherry flavour.
Dosage:
Age:2-3 months
Dose:
1. Post vaccination fever.
2.Other causes of pain and fever ONLY if your baby weighs over 4kg and was born after 37 weeks.
One 2.5ml spoonful if necessary, after 4-6 hours, give a second 2.5ml dose.
Do not give to babies less than 2 months of age.
For infants 2-3 months no more than 2 doses should be given.
If further doses are needed, talk to your doctor or pharmacist.
| | |
| --- | --- |
| Child's Age | How much (up to 4 times in 24 hours) |
| 3-6 months | One 2.5ml spoonful (small end) |
| 6-24 months | One 5ml spoonful (Large end) |
| 2-4 years | one 5ml spoonful & one 2.5ml spoonful |
| 4-6 years | Two 5ml spoonfuls (large end) |
Do not give more than 4 doses in any 24 hour period.
Leave at least 4 hours between doses.
Do not give this medicine to your child for more than 3 days without speaking to your doctor or pharmacist.
Ingredients:
Each 5ml contains 120mg Paracetamol, also contains liquid Malitol (E965) and Ethanol, Sorbitan Monoolate, Glycerol(E422), Magnesium Aluminuim Silicate, Saccharin Sodium (E954), Xanthan Gum, Cherry Flavour, Sodium Benzoate (E211), Citric Acid Monohydrate, Polysorbate 80 and Purified water.