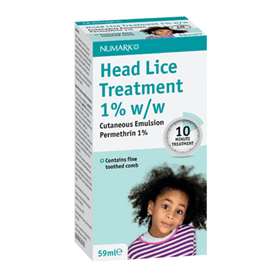 Click on image to enlarge



Price: £3.70 (incl VAT)

Numark Head Lice Treatment 1% w/w is a 10 minute treatment for the removal of head lice and their eggs. Including fine toothed comb.

Cutaneous Emulsion
Permethrin 1%

Directions for Use:
Wash the hair with a mild non-conditioning and non-medicated shampoo. Towel dry.
Shake the bottle well before use. Saturate the hair and scalp thoroughly with the lotion, paying particular attention to the back of the neck and area behind ears.
Leave for 10 minutes. Rinse the hair well with water and comb using an ordinary comb.
Rinse again with water and comb the hair with the fine toothed comb to remove dead lice and eggs. Finally dry the hair in the usual way.
For full directions see pack leaflet.

One bottle is sufficient for a single application to shoulder length hair of average thickness. A little more may be required for longer or thicker hair. It is unlikely that more than two bottles will be required.

Suitable for use on adults and children over 6 months.
Children should be supervised during use.
Use the lotion on children below the age of 6 months should only be on the advice of a doctor.

If one member of the family needs treatment, it is important to check the rest of the family and treat them if lice or eggs are seen.

Ingredients:
Permethrin 1% w/w, Cetostearyl Alcohol, Propylene Glycol, Hydroxycetyl Hydroxyethyl Dimonium Chloride, Ceteareth-20, Benzyl Alcohol, Light Liquid Paraffin, CarbomerR, Sodium Hydroxide, Purified Water.

For longer hair you may need the Numark Head Lice Treatment Double Pack





| | | | | |
| --- | --- | --- | --- | --- |
| Product code: 3886355 | | Price: £3.70 (incl VAT) | | |