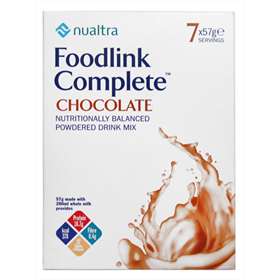 Click on image to enlarge



Price: £4.85 (incl VAT)

Nualtra Foodlink Complete Chocolate has been formulated to give you extra energy, protein, vitamins and minerals when you are finding it challenging to meet your nutritional requirements. You are able to purchase Foodlink Complete in 5 tasty flavours, so there are flavours for everyone.
Suitable for vegetarian diet.
Store in a cool, dry place.
Recommended by Health Care Professionals.
No artificial colours, sweeteners or preservatives.
Nutrionally balanced with full range of vitamins and minerals.
Gluten Free.
Directions of Use:
A large glass or mug is needed along with 200mls (1/3 pint) of whole milk.
1. Put 50mls of liquid in the shaker or in a glass and then add one sachet of Foodlink Complete.
2. Use a fork or whisk to mix into a smooth paste.
3. Add the remaining 150mls of liquid whilst still mixing.
4. Drink when fully mixed.

If using a Nualtra shaker:
1. Put 200mls of whole milk in the shaker, and then add a sachet of Foodlink Complete.
2. Replace the lid and shake vigorously.
3. Decant into your glass or mug to drink, suitable for refrigeration and consumption once mixed for up to 24 hours.
4. Get rid contents after 24 hours.

Cautions/Warnings:
Do not use hot liquids with the shaker.
Foodlink Complete is a food for special medical purposes, for the dietary management of patients with or at risk of developing disease related malnutrition.
For enteral use only.
Foodlink Complete must be used under medical supervision and taken as directed by a health/medical professional.
Foodlink Complete is designed as a supplement to a normal diet and is not suitable as a sole source of nutrition.
Food link Complete is not suitable for children under 3 years.
Use with caution in children under 6 years under the guidance of a health care professional.
Not for use in Galactosaemia or in patients with cow?s milk intolerance.

Ingredients:
Skimmed Milk Powder, Maltodextrin, Sucrose, Palm Oil, Potassium Dihydrogen Phosphate, Potassium Chloride, Sodium Ascorbate, Magnesium Oxide, Vitamin E, Ferric Pyrophosphate, Calcium Carbonate, Nicotinamide, Vitamin A, Zinc Oxide, Calcium D-Pantothenate, Copper Gluconate, Pyridoxine Hydrochloride, Potassium Iodide, Folic Acid, D-Biotin, Manganses Sulphate Monohydrate, Thiamine Mononitrate, Vitamin D3, Sodium Selenite, Vitamin K, Riboflavin, Chromium Chloride, Vitamin B12, Sodium Molybdate, Soya Lecithin.




| | | | | |
| --- | --- | --- | --- | --- |
| Product code: 3990066 | | Price: £4.85 (incl VAT) | | |