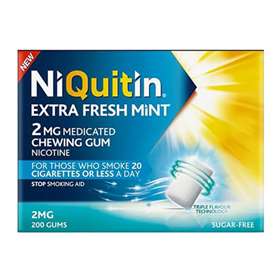 Click on image to enlarge



Price: £23.95 (incl VAT)
Sorry, this item is currently unavailable. Click here to receive notification when this product comes back into stock.
NiQuitin Extra Fresh Mint Medicated Chewing Gum is a chewing gum specially designed to help people quit smoking by providing nicotine inside. On top of this the chewing gum has a fresh minty taste and leaves a fresh breath after use.


For those who smoke 20 cigarettes or less a day
Triple Flavour Technology


How to Use
Stopping smoking straightaway (adults and children 12 years and over): Have a piece of NiQuitin Extra Fresh Mint Gum when you have the urge to smoke. Use 8-12 pieces of gum (max 15) for up to 6 weeks, then gradually phase out their use. Stop using Nicotine Gum when you are using 1 or 2 a day.

Cutting down, perhaps before quitting completely: Have a piece of NiQuitin Extra Fresh Mint Gum instead of a cigarette whenever you feel a strong urge to smoke. Cut down your cigarettes by as many as possible. As soon as you feel able.

Stopping smoking for short periods of time.

Ingredients
Each piece of gum contains 2 mg nicotine (as nicotine resinate). Gum base contains butylated hydroxide toluene (E321), Sorbitol (E420), Xylitol (E967),Calcium Carbonate (E170), Sodium Carbonate anhydrous (E500), Glycerol (E422), Acesulfame Potassium (E950), Sucralose (E995), Talc and Flavours.
Coating contains Xylitol (E967), Mannitol (E955), Carnauba Wax (E903), Titanium dioxide, Talc and Flavours.