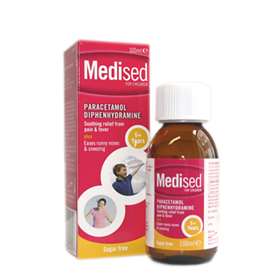 Click on image to enlarge
| | |
| --- | --- |
| Price: £3.19 (incl VAT) | Sorry, this product is no longer available. |
Dozol a similar product for children's mild to moderate pain such as headaches, sore throats and high temperatures.


Medised for Children is a paracetamol oral suspension for the treatment of mild to moderate pain such as, headache, sore throat and general aches and pains. The fast acting formula also provides symptomatic relief of colds, flu and feverishness. Medised for Children helps to control excessive mucous secretion and relieve nasal irritations caused by a runny, stuffy or tickly nose. It also aids restful sleep.

IMPORTANT: The new requirement by the MHRA has restricted an ingredient in this formula and should from now on this product must NOT be given to children 6 years of age and under. (March 2009)

Medised for Children at a glance:
Medised for Children is a liquid suspension containing in 5ml Paracetamol 120mg, Diphenhydramine hydrochloride 12.5mg
Relief of mild to moderate pain, including headache, sore throat, aches and pains
Symptomatic relief of influenza, feverishness and feverish colds and chicken pox
For the reduction of nasal irritation and watery discharge
Medised for Children also helps restful sleep
Dosage:
6 years to under 12 years: 10ml-20ml (2-4 teaspoonful) 3 times daily
Not to be given under 6 years of age
If you are looking for a pain relief product for a younger child, then we would like to recommend Nurofen for Children, which is suitable for children aged 3 months and over, and Calpol Infant Suspension, which is suitable for children aged 2 months and over, particularly for a condition such as teething.