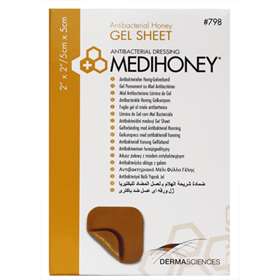 Click on image to enlarge



Price: £2.40 (incl VAT)

Medihoney Antibacterial Honey Gel Sheet is a sterile wound contact dressing comprising of Medihoney antibacterial honey and sodium alginate. Medihoney antibacterial honey is standardised antibacterial honey, predominantly Leptospermum sp., selected for its unique wound cleaning and antibacterial barrier properties. The dressing will form a soft gel when in contact with exudating wounds.

Medihoney Gel Sheet is for use on mild to moderately exudating wounds. It is suitable for:
Providing a moist wound healing environment.
Protecting the wound by creating a barrier against wound pathogens including antibiotic resistant strains.
Providing a cleaner wound.
Rapidly removing malodour.
Reducing the risk of infection from bacteria.
What type of wound should be treated with the Medihoney Gel Sheet?
Leg/foot ulcers.
Pressure ulcers and infected wounds.
Sloughy or maladorous wounds.
Donor and recipient graft sites.
Superficial wounds such as cuts, scratches, abrasions
Superficial burns.
How to Use a Medihoney Gel Sheet:
Protect wound edges with Medihoney Barrier Cream.
Remove the liners of the Medihoney Gel Sheet before applying to the wound.
Place the dressing onto the wound surface ensuring the dressing is in contact with the wound bed.
A suitable non-adherent sterile pad or dressing should be applied to cover the sheet. The dressing should be sufficiently absorbent to manage wound exudate.
The wound may be cleaned between dressing changes.
The gel sheet may be cut with sterile scissors before applying to the wound and placed side by side to cover larger areas. For deep wounds multiple layers may be used or alternatively the wound may be filled with Medihoney Antibacterial Medical Honey.
How often should the Medihoney Gel Sheet be Changed?
The gel sheet requires changing when the dressing has gelled and has been diluted by wound exudate. Dressings may be left in place for up to 7 days on non-exudating wounds. More frequent changing is required on exudating wounds where the frequency of change is dependant on the level of exudate. If maceration* of the surrounding skin occurs more frequent changing of the dressing is required.(over-hydrated, whitish-coloured tissue due to excess moisture).

Contraindications:
Do not use on individuals who have had an allergic reaction to honey or sodium alginate.


| | | | | |
| --- | --- | --- | --- | --- |
| Product code: 3403995 | | Price: £2.40 (incl VAT) | | |