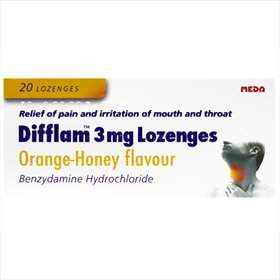 Click on image to enlarge



Price: £5.95 (incl VAT)

Difflam 3mg Orange-Honey Flavoured Lozenges contains Benzydamine Hydrochloride that relieve pain and irritation of the mouth and throat. With the tasty and soothing taste of Orange and Honey.
20 Lozenges
Orange-Honey flavour.
Each lozenge contains 3mg of Benzydamine Hydrochloride.
Relieves pain and irritation of the mouth and throat.
Difflam Lozenges Directions of Use:
Suitable for adults and children aged 6 years old and over.
Take one lozenge three times a day and allow to dissolve slowly in the mouth.
Do not swallow or chew.

Please ensure to carefully read enclosed leaflet before taking this product.

Cautions:
Children aged 6-11 years old should be supervised by an adult.
Not suitable for children under the age of 6 years old.
Do not use for more than 7 days in a row.
If your throat condition persists or worsens after 3 days consult a healthcare professional.
Keep out of sight and reach of children.
Do not take if sensitive to any of the listed ingredients, salicylic acid, or other anti-inflammatory painkillers.
Consult a doctor before use if you have a history of asthma or an intolerance to some sugars.
Active ingredients:
Benzydamine Hydrochloride

Other Ingredients:
Isomalt (E 953), acesulfame potassium, citric acid monohydrate, orange flavour, honey flavour, levomenthol, quinoline yellow (E 104), sunset
yellow (E 110). (See leaflet for more information.)




| | | | | |
| --- | --- | --- | --- | --- |
| Product code: 4069746 | | Price: £5.95 (incl VAT) | | |