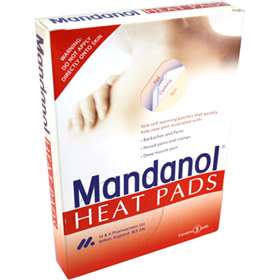 Click on image to enlarge



Price: £2.95 (incl VAT)
Sorry, this item is currently unavailable. Click here to receive notification when this product comes back into stock.
Mandanol Heat Pads are self-heating patches that can help soothe muscle sprains, backache, period pains etc. Easy to use, discreet and can be used anywhere any time. The pad will heat up to approximately 52° C, and will last up to 12 hours.

Instructions:
Open 1 sachet and expose pad to air.
Remove protective backing place directly to clothing/underwear over the painful area (don't apply direct to skin). The pad will take approximately 30 minutes to take effect.
Mandanol heat pads are air-activated. Do not open sachets until you are ready to use.
After use, dispose in refuse bin.
Pad Details:
Max Temperature: 63°C.
Min Temperature: 52°C.
Duration: up to 12 hours.

Caution:
For external use only
Use only as directed
Not suitable for exceptionally sensitive skin
If in doubt, please consult your doctor
If pregnant, please consult your doctor
Discontinue use if discomfort arises
Not suitable for infants
Do not use if you have circulatory disorders
If ingested, contact accident/emergency centre immediately.

Active Ingredients:
Iron powder, water, activated carbon, wood powder, salt.