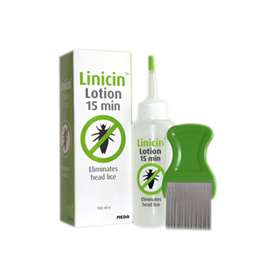 Click on image to enlarge



Price: £8.99 (incl VAT)
Sorry, this item is currently unavailable. Click here to receive notification when this product comes back into stock.
Linicin Lotion is an anti-head lice lotion that eliminates head lice in an effective and safe way. It can be used on children from the age of 6 months and does not contain any insecticides. Linicin Lotion is a non-toxic and very mild lotion based on ingredients that are widely used in cosmetics and balms, including those used in children's products.

Linicin Lotion is easy to use and works within 15 minutes. Following treatment, Linicin Lotion is washed out using regular shampoo and rinsing with lukewarm water, the hair is then combed through thoroughly with the louse comb supplied. Head lice cannot develop resistance to Linicin Lotion since it is not based on insectisides, instead it mechanically blocks the lice's uptake of oxygen.


100ml bottle.

Louse Comb provided.

Works within 15 minutes.

Can be used by pregnant and breastfeeding women.

Safe for everyday use.

How to use:


Apply Linicin Lotion to dry hair.

Leave the lotion in the hair for 15 minutes to take effect.

Wash out Linicin Lotion with regular shampoo.

Comb the wet hair throughly.

Repeat treatment after 8 days.

Important:


If several family members are infested with head lice, treat all infected members on the same day to avoid re-infestation.

If re-infestation occurs between the first and second treatment, then treat again with Linicin Shampoo. The product is safe to use as often as necessary.

Linicin Lotion is suitable for both adults and children from the age of 6 months. It can also be used by pregnant and breastfeeding women.

This product can cause slight eye irritation. Avoid contact with eyes or other mucous membranes. If contact occurs, rinse well with water.

Linicin Lotion must not be used on people who are sensitive to any of the ingredients.

Discontinue use and consult your Doctor should you experience an allergic reaction.

At all times keep hair away from naked flame, cigarettes and other ignition sources.

For external use only.

Do not use Linicin Lotion after the expiry date.

Please read instructions enclosed before using this product.

Ingredients (INCI):

Dimethicone, tocopheryl acetate, prunus armeniaca, prunus dulcis.