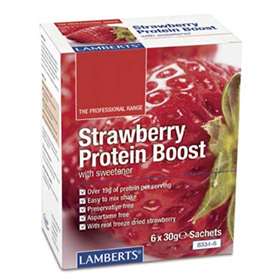 Click on any image to enlarge
| | |
| --- | --- |
| Price: £6.29 (incl VAT) | Sorry, this product is no longer available. |
With real freeze dried strawberries!

Our bodies need protein to grow and repair themselves and it is important to ensure your diet contains sufficient protein, otherwise muscle strength and energy levels can be compromised. There is increasing evidence that some diets may be falling short of protein for a variety of reasons including low appetite or simply the wrong choice of foods. It might be due to illness, or perhaps due to disrupted eating patterns caused by a busy lifestyle. Whatever the reason the answer might be to include one of these delicious strawberry shakes in to your diet routine. Each shake provides a healthy 19g of high quality, easy to digest whey protein.
1 Shake = 19g of high-quality, easy to digest whey protein.
6 x 30g sachets per box.
Double the protein of other formulas.
Easy to mix shake.
Great tasting, delicious cold or warm.
Came out top in a blind taste test compared to other protein products.
Gluten-free, preservative-free, aspartame-free.
Protein supplements are recommended for:
Aiding weight control by helping to prevent 'rebound' hunger.
Low appetites.
Helping recovery from illness.
Helping sports enthusiasts increase muscle mass.
People who may not get enough dietary protein, such as children and adults with busy lifestyles.
Protein in Sport:
Protein is the building block of muscles and it is essential for growth and repair. When exercising and particularly when you have been doing resistance training, you cause microscopic damage to your muscles; a process called catabolism. This is a perfectly normal biological process and is a stimulus for muscle repair and growth. This damage causes the body to respond by sending nutrients, including protein, to these muscles to help them grow.

Protein for Children:
Children's muscles, skin, hair and organs are always growing and as already mentioned, protein is the building block of muscles. Therefore, children must ensure they are getting enough of this important nutrient. They need it for growth and repair of muscle and tissue, for providing energy when carbohydrates are not available, for the creation of enzymes, for pH regulation in the blood, for controlling metabolism related processes in the body and for building their immune systems via protein antibodies. Not recommended for children under 12 years.

Dosage:
One sachet a day will make a valuable contribution to the overall protein intake and is sufficient for most situations. It is safe to take up to 2 sachets a day, but please remember that this is not a meal replacement.

Directions for use:
Empty one sachet into a glass. Measure out 200ml of either milk or water. Add a splash of this 200ml liquid into the glass and mix until smooth. Add the remaining liquid into the glass and briskly stir until smooth. For a delicious alternative try using warm milk.

Suitable for vegetarians.

Allergen advice:
Contains lactose and milk solids. Packed in a factory that handles soya, nuts, peanuts, gluten and egg.

Ingredients:
Whey Protein Concentrate*, Flavouring, Freeze Dried Strawberry Powder, Citric Acid, Colour (Beetroot Red), Sweetener (Sucralose).

Typical Amino Acid Profile:


| Typically: | Per 30g | Typically: | Per 30g |
| --- | --- | --- | --- |
| Alanine | 1.4g | Lysine | 2.7g |
| Arginine | 0.6g | Methionine | 0.5g |
| Aspartic Acid | 3.1g | Phenylalanine | 0.8g |
| Cysteine | 0.6g | Proline | 1.6g |
| Glutamic Acid | 5.1g | Serine | 1.4g |
| Glycine | 0.5g | Threonine | 1.9g |
| Histidine | 0.5g | Tryptophan | 0.4g |
| Isoleucine | 1.8g | Tyrosine | 0.8g |
| Leucine | 3.0g | Valine | 1.6g |
Nutritional Information:
| Nutrition: | Per 30g sachet: | Per 30g sachet with 200ml semi skimmed milk: |
| --- | --- | --- |
| Energy | 480KJ | 777KJ |
| Energy | 115Kcal | 185Kcal |
| Protein | 19.2g | 26.4g |
| Carbohydrate (of which sugars) | 5.8g (5.5g) | 15.7g (15.4g) |
| Fat (of which saturates) | 1.5g (0.9g) | 2.1g (1.1g) |
| Dietary Fibre | 0.0g | 0.0g |
| Sodium | 0.085g | 1.76g |