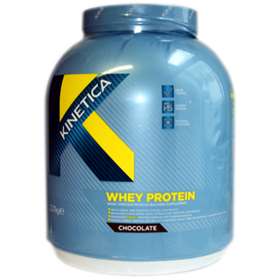 Click on image to enlarge
| | |
| --- | --- |
| Price: £55.00 (incl VAT) | Sorry, this product is no longer available. |
Kinetica Whey Protein Chocolate 2.27kg is a whey protein supplement that supports lean muscle growth and recovery.

Kinetica Whey Protein Chocolate has been engineered to restore the balance of the body's amino acids before and after exercise.
2.27kg.
23g of protein in every serving.
Chocolate flavour.
Virtually free of fat and lactose.
Aspartame-free.
Free from artificial colours and flavours.
Hydrolysed whey protein for quick absorption.
Contains milk and soya ingredients.
Serving scoop included.
Kinetica Whey Protein contains a unique Biotein protein complex to assist in muscle recovery and development and is rich in pre-digested whey protein peptides which the body needs to help absorb amino acids.

Directions for use:
For maximum results, drink 2-4 Kinetica Whey Protein Chocolate shakes a day to provide your tired muscles with the nutrition they need to develop rapidly. Depending on your personal protein needs, mix 1-3 scoops with 200ml of water or low fat milk in a shaker or blender or simply stir with a fork.

Precautions:
Pregnant women should consult a GP before use.
If you are suffering from a medical condition, please consult your GP.
Kinetica Whey Protein is not intended to treat illness.
Please do not exceed the recommended dose.
Keep out of reach of children.
Supplements should not be used as a substitute for a balanced diet.

Ingredients:
Protein Blend (Ultra Filtered Whey Protein Concentrate, Cross-Flow-Micro-Filtered Whey Protein Isolate, Hydrolysed Whey Protein Concentrate), Cocoa Powder, Natural Flavouring, Emulsifier (Soya Digestive Lecithin), Enzyme (Aminogen), Stabiliser (Carboxymethylcellulose), Sweetener (Sucralose).


| Nutritional information | Typical per 30g serving | Typical per 100g |
| --- | --- | --- |
| Energy | 119kcal/498kJ | 395kcal/1653kJ |
| Total protein | 21.5g | 72g |
| Total carbohydrate | 2.3g | 7.6g |
| of which sugars | 1.5g | 5.1g |
| Total fat | 2.6g | 8.5g |
| of which saturates | 1.8g | 6.1g |
| Dietary fibre | 0.8g | 2.8g |
| Sodium | 0.05g | 0.16g |
| Aminogen | 100mg | 333.3mg |
| Vitamin profile | Typical per 30g serving | Typical per 100g |
| --- | --- | --- |
| Amino acid profile | | |
| Leucine | 2.56g | 8.53g |
| Isoleucine | 1.38g | 4.60g |
| Valine | 1.40g | 4.68g |
| Total branched chain amino acids | | |
| Aspartic acid | 2.62g | 8.74g |
| Glutamic acid | 4.20g | 13.99g |
| Serine | 1.30g | 4.34g |
| Glycine | 0.47g | 1.56g |
| Histidine | 0.44g | 1.48g |
| Arginine | 0.67g | 2.25g |
| Threonine | 1.76g | 5.88g |
| Alanine | 1.17g | 3.91g |
| Proline | 1.39g | 4.62g |
| Tyrosine | 0.75g | 2.49g |
| Methionine | 0.44g | 1.48g |
| Cystine | 0.59g | 1.95g |
| Phenylalanine | 0.79g | 2.64g |
| Lysine | 2.21g | 7.37g |
| Tryptophan | 0.34g | 1.14g |