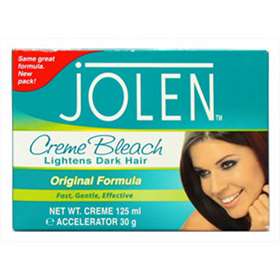 Click on image to enlarge
| | |
| --- | --- |
| Price: £5.55 (incl VAT) | Sorry, this product is no longer available. |
Go confidently with Jolen Creme Bleach Original Formula! It's the simplest and safest way to lighten unwanted hair so that it blends beautifully with your natural skin tone, making it virtually invisible! Also perfect to lighten your eyebrows to match your hair colour!

Original formula for all hair types and colours.
Great for face, eyebrows and body.
Contains: Creme, accelerator, mixing tray and spatula.
Gentle to skin.
Directions for Use:
ALWAYS PATCH TEST BEFORE USE.
Wash area to be bleached with soap and cold water and pat dry.
With the spatula, measure about one quarter teaspoon Accelerator powder and place on tray.
Clean spatula.
Measure about 3/4 teaspoon Creme Bleach onto the tray and blend well with powder.
Apply mixture with spatula to the area to be bleached, covering hair completely.
Wait 8 minutes and remove with spatula.
If hair is not completely bleached, reapply the mixture for another 5 to 10 minutes.
Wash area with cold water

Caution:
Do not use immediately after a hot bath or shower as open, as open pores may create sensitivity.
Do not use around eyes or in vaginal area.
If bleach mixture gets into eyes, rinse immediately and thoroughly with cold water and consult your doctor.
Do not use if you suffer from any medical condition that may be affected by compromised skin.
Consult a doctor before use if you suffer from any skin related disorder, circulatory issues or diabetes.
Do not use on skin imperfections, such as blemishes or moles or on broken or irritated, inflamed or sunburned skin. Wait until skin has healed.
Wait 24 hours between treatments of the same area.
Do not expose treated skin to intense or prolonged heat or sunlight for 24 hours after application.
Remove immediately and rinse skin with cold water if you experience any skin sensitivity during use.

Creme Ingredients:
Aqua, Glyceryl Stearate, Propylene Glycol, Hydrogen Peroxide, Stearyl Stearate, Isopropyl Myristate, Stearmidoppryopyl Dimethylamine, Phosphoric Acid.

Accelerator Ingredient:
Ammonium Bicarbonate.