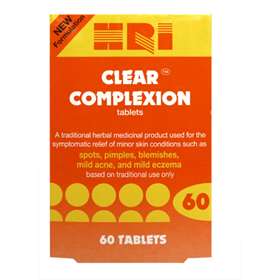 Click on image to enlarge
| | |
| --- | --- |
| Price: £3.99 (incl VAT) | Sorry, this product is no longer available. |
HRI Clear Complexion tablets are a traditional product used for minor skin problems such as spots, pimples and mild acne.

HRI Clear Complexion Tablets contain 2 active ingredients:
Extract of Burdock which helps fight spot causing bacteria.
Blue Flag Rhizome that cleanses the body of toxins, clearing congestion for a healthy complexion.
Contains Burdock extract and Blue Flag Rhizome.
For relief of minor skin conditions.
60 tablets 20 days supply.
Directions:
Adults, elderly and children over 12 years: Take one tablet 2-3 times daily.

Important information:
Do not take HRI Clear Complexion if:
If you are allergic to Burdock, Blue flag, plants of the Asteraceae family such as daisies, marigolds or artichokes. Or any of the other ingredients listed below.
You have infected or inflamed spots.
You are pregnant of breast-feeding
You are under 12 years old.
Consult your doctor or healthcare practitioner if you have widespread redness, oozing or infected skin sores, infected spots or if your skin is broken.

Taking other medicines:
Tell your doctor or pharmacist before use if you are taking any other medicines, including those obtained without prescription.

Pregnancy and breast-feeding:
This medicine is not recommended during pregnancy and breast-feeding.

Ingredients:
Active ingredients: Burdock Extract, blue Flag Iris Rhizome.
Other ingredients:Sucrose, Calcium Hydrogen Phosphate, Croscarmellose Sodium, Magnesium Stearate, Purified Talc, Mastercote Cream FP9002(containing beeswax, shellac, carnuba wax) Acacia, Titanium Dioxide (E171), Shellac.
Each tablet contains 191mg of Sucrose. If you have been told by your doctor that you have an intolerence to some sugars, please contact your doctor before taking these tablets.

Please read enclosed instruction leaflet carefully before taking HRI Clear Complexion Tablets.