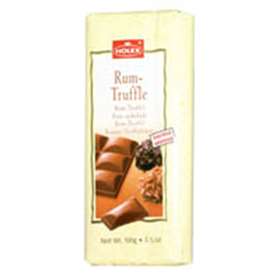 Click on image to enlarge



Price: £2.00 (incl VAT)
Sorry, this item is currently unavailable. Click here to receive notification when this product comes back into stock.
Holex Rum Truffle Chocolate 100g is a plain bar of chocolate with a soft Rum-Truffle filling.
100g.
Gluten Free.
Fructose sweetened.
Diabetic chocolate.
Ingredients:
Fructose, cocoa mass, whole milk powder, cocoa butter, fructose syrup, skimmed milk powder, butterfat, rum (0.9%), emulsifier soya letchin, flavourings, Cocoa: 35% minimum (in the chocolate content).

Cautions:
Holex Rum Truffle Chocolate may contain traces of sesame, peanuts, hazelnuts and other nuts.
Sutiable for diabetics in consultation with their physician.
However not suitable for overweight diabetics.
Best eat less than 25 gms of fructose a day.