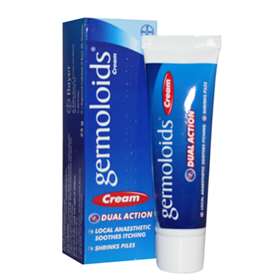 Click on image to enlarge



Price: £3.60 (incl VAT)

Germoloids cream contains the same active ingredients as the Germoloids Ointment in the same proportions. However, Germoloids Cream is thinner than the ointment, and hence some people find it easier to apply. The cream feels more like a moisturiser.

Germoloids cream contains zinc oxide, which reduces swelling and hences reduces the size of piles (which are a form of swelling). In addition, Germoloids cream also contains lidocaine, which anesthetises the affected area and thus soothes the pain and itching associated with piles.


White Germoloids cream containing Zinc oxide 6.6% w/w, Lidocaine hydrochloride 0.7% w/w
Symptomatic relief of pain, swelling, irritation and itching associated with haemorrhoids and pruritus ani
Adults: apply twice a day at minimum of 3-4 hourly intervals, preferably after a bowel movement. Maximum 4 applications in 24 hours
Children: not recommended except on medical advice
| | | | | |
| --- | --- | --- | --- | --- |
| Product code: 0398362 | | Price: £3.60 (incl VAT) | | |