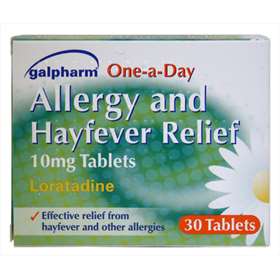 Click on image to enlarge



Price: £1.60 (incl VAT)
Sorry, this item is currently unavailable. Click here to receive notification when this product comes back into stock.
For the relief of:
Fast Acting Hayfever.
Skin Allergies.
Dust.
Pet Allergies.
One a Day - 30 Tablets.

Each tablet contains 10mg of Loratadine. Loratadine belongs to a group of drugs called antihistamines which help to relieve the symptoms of some allergies.

This medicine is used to relieve the symptoms of hayfever, non-seasonal rhinitis (runny and itchy nose) and other allergies e.g pet or house dust mite allergies. Loratadine can also be taken for skin allergies such as rash, itching and hives.