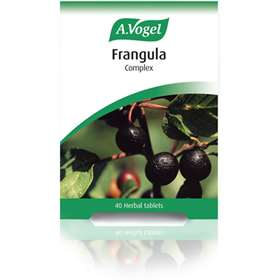 Click on image to enlarge



Price: £4.59 (incl VAT)
Sorry, this item is currently unavailable. Click here to receive notification when this product comes back into stock.
Please Note: This product has been discontinued by the manufacturers. We will not be able to obtain any residual stock. Bioforce have recommended Linoforce as a suitable alternative.

Bioforce Frangula Complex is a combination of Frangula, Cascara, Fumitory, Milk Thistle, Urtica dioica and Aloe Vera.
Helps maintain intestinal peristalsis, ensuring wastes do not stagnate in the colon.
Acts as a mild laxative.
Beneficial for: Constipation, IBS, Bloating, Detoxing, Skin problems (e.g. acne).
A sluggish bowel can cause bloating, flatulence, lethargy, haemorrhoids and some times symptoms of IBS. Our diet of refined foods and stressful life styles make these problems very common. If our bowels are not working correctly, toxins in the intestines are reabsorbed into our blood stream. For many of us, this may go on to cause lethargy, acne, eczema and similar ailments. The answer is to cleanse the bowel and regulate it's movement.

By cutting out processed and artificially enhanced foods and taking Bioforce Frangula Complex*, many people start to see an improvement after a few weeks. (Do remember, it can take the body a week or 2 to flush out toxins, and re-adjust to a new diet and/or new nutrients before benefits may be noticed).
The key ingredients to Frangula Complex are:
Cascara & Frangula: Both ingregients help to soften the stool which helps to relieve constipation. This will also help ease the discomfort of haemorrhoids.
Aloe Vera: Soothes the lining of the digestive tract. Helps to prevent griping pains.
Fumitory: Contains isoquinoline alkaloids. Traditionally, it's used for skin problems, because it acts as a liver tonic. It helps to relieve spasms in the gallbladder and bile ducts. Lastly, it helps to balance out the effects of the laxative agents in the Complex.
Milk Thistle: Protects and supports liver function - Important when the bowel has been congested and toxins could be reabsorbed.
Nettle: Acts as a liver and blood cleanser.


Directions for use:
Adults: 2 tablets twice daily with meals.
Children: This product is not recommended for children.

*Not recommended for long term use. If you have ongoing constipation, it is advised to seek the help of a nutritional expert.
Those with conditions such as Crohn's Disease or colitis should avoid laxative products unless directed by a health care professional.
Please seek medical advice if pregnant.

ingredients: Extract of Frangula Alnus (Alder Buckthorn) dried bark • Fumaria Officinalis (Fumitory) dried herb • Cascara Sagrada (Californian Buckthorn) dried bark • Urtica Dioica (Stinging Nettle) dried roots, leaf and rhizomes • Silybum Marianum (Milk Thistle) dried ripe fruit • Aloe Barbadensis (Aloe Vera) dried leaf • Also contains: Croscarmellose Sodium • Microcrystalline Cellulose • Dicalcium Phosphate • Magnesium Stearate (vegetable source) • Silica to 450mg.