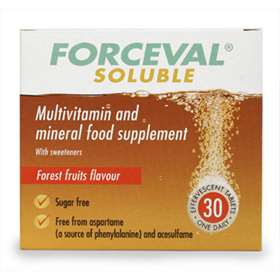 Click on image to enlarge



Price: £13.10 (incl VAT)

A sugar-free food supplement with a pleasant fruity taste. Each effervescent tablet contains a wide range of essential vitamins, minerals and trace elements. Forceval can help supplement the diet with the intake of vitamins, minerals and trace elements. Forceval soluble tablets are suitable for people who may have difficulty swallowing capsules and tablets.

How to take:
The daily dose is one tablet dissolved in a glass of water (125ml-200ml).
Take after food.
Do not exceed the recommended daily dose.
Forceval Soluble is suitable for adults and children over 12 years of age.
Contains both fat and water-soluble vitamins and minerals. The resulting solution may therefore be cloudy, this is perfectly normal.
Caution:
This product contains iron, which can be harmful to children if taken in large doses.
Should not be used as a substitute for a varied and balanced diet and a healthy lifestyle.
May cause nausea and vomiting, particularly if taken on an empty stomach.
Keep out of sight and reach of children.

Ingredients:
Acidifier, Citric acid; Monopotassium Phosphate, Maltodextrin, Calcium Carbonate, Sodium Bicarbonate, Magnesium Carbonate, Flavouring, Potassium Hydrogen Carbonate, Maize Starch, Colour: Redbeet Powder,(E162), L-acscorbic Acid, Tri Zinc Citrate Dihydrate, Iron Sulphate, Sweetener, Sucralose (E955) Vitamin E acetate, DL-alpha-tocopherol, Modified Maize Starch, Acacia Gum, Vitamin A Acetate, DL Alpha-Tocopherol, Tricalcium Phosphate, Water, Magnese Sulphate, Vitamin D3, Maltodextrin, Corn Starch, Sucrose, Cholecalciferol, Copper Sulphate, Calcium-D-Pantothenate, Cyanocobalmin, Maltodextrin, Trisodium Citrate, Citric Acid, Cyanocabalamin, Pyridoxine HCI, Riboflavin 5-Phosphate, Sodium, Thiamine HCI, Chromium (III) Chloride, Sodium Molybdate, Folic Acid, Potassium Iodide, Sodium Selenate Anhydrous, D-Biotin.




| | | | | |
| --- | --- | --- | --- | --- |
| Product code: 3691508 | | Price: £13.10 (incl VAT) | | |